​Glass Lewis recently launched a pilot of its new Report Feedback Statement (RFS) service for the 2019 proxy season. By subscribing to the RFS service, U.S. issuers and proponents of shareholder proposals put forth at annual meetings of U.S. companies who wish to "express their differences of opinion with Glass Lewis analysis," may – for a fee of $2,000 per RFS – comment directly on Glass Lewis' proxy voting recommendations.[1] Subject to meeting Glass Lewis' requirements for use of the service, which are summarized in this Alert, those comments will then be distributed without edit or modification to all individuals who subscribe to Glass Lewis' research, together with any response from Glass Lewis on the RFS. Specifically, Glass​ Lewis clients that have already downloaded the Proxy Paper report will receive an email with the RFS (and any Glass Lewis response thereto). Glass Lewis will also include a disclosure note on the first page of the report, noting that an RFS on the Proxy Paper is available.  
For the 2019 proxy season, Glass Lewis is piloting this RFS service for annual meetings only. It will not be available for special meetings, including proxy contests, consents, mergers and acquisitions.
Requirements for Use of the 2019 Pilot RFS Service
Users must be a U.S. issuer or shareholder proposal proponent at the annual general meeting of a U.S. company. For purposes of the RFS service, U.S. companies are those who file as domestic registrants with t​​he U.S. Securities and Exchange Commission.  
Users are not required to have a separate subscription to Glass Lewis' Proxy Paper analyses, but they must purchase the relevant Proxy Paper report directly from Glass Lewis (the cost to purchase a one-time Proxy Paper report varies depending on the size of the relevant issuer).


The RFS may include only discussion of differences of opinion that issuers or proponents have with Glass Lewis' research. It cannot include commentary on the accuracy of any third-party data contained in the Proxy Paper (such as Sustainalytics' ESG information) or the analysis or recommendations or any other proxy advisor. In addition, the submissions must comply with specified terms and conditions, including Glass Lewis' RFS Etiquette Guide, which requires that the statement not include any inflammatory remarks regarding Glass Lewis, and that the information included be accurate, legally compliant and publicly available. Note that the RFS service is not intended to replace Glass Lewis' existing process for resolving factual errors or omissions, which should continue to be made through Glass Lewis' website. 


The RFS must be submitted within four business days of Glass Lewis' publication of the related Proxy Paper report. In addition, for the main 2019 proxy season (through the end of May), users must be one of the first 12 issuers/proponents to submit an RFS for the week. This weekly cap will be calculated based on the date of Glass Lewis' receipt of the RFS (either actual or "reserved," as explained under What to do Now below), and subject to change at Glass Lewis' discretion. 


The RFS submission must be in PDF format, with signature included, on the letterhead of the submitting issuer or proponent. The submission must include contact information to enable investors to follow up with the organization as needed.


In addition, in the case of issuers only, to use Glass Lewis' RFS service issuers must:
 

participate in Glass Lewis' Issuer Data Report program – issuers must sign up at least 30 days in advance of their annual general meeting date for guaranteed participation – and complete the IDR process prior to submitting their RFS.


Address any factual errors or omissions within the Proxy Paper within two business days of publication of the initial Proxy Paper report. As noted above, this should be done through Glass Lewis' website using its existing process, not through the RFS service.


Name the shareholder proponent of any shareholder proposal(s) up for a vote at the relevant annual meeting in the company's proxy. This requirement must be met even if the Proxy Paper report content the issuer wishes to comment on does not relate to the shareholder proposal(s). 


What to Do Now
The RFS service has only been available since March 13th, and to date we are aware of only one RFS submission.​[2] Issuers who may want to use the RFS service in connection with a 2019 annual meeting should sign up immediately for Glass Lewis' Issuer Data Report service if they have not already done so, as this must be done at least 30 days in advance of an issuer's annual meeting date. While the deadline for submission of an RFS will be dependent upon Glass Lewis' publication of the relevant Proxy Paper report, issuers and proponents who already know they want the ability to submit an RFS may subscribe now for the service to effectively reserve one of these 12 weekly spots. We understand that subscribers will have the ability apply the $2,000 subscription fee as a credit towards any other Glass Lewis services or products if they decide not to submit an RFS after subscribing for the service.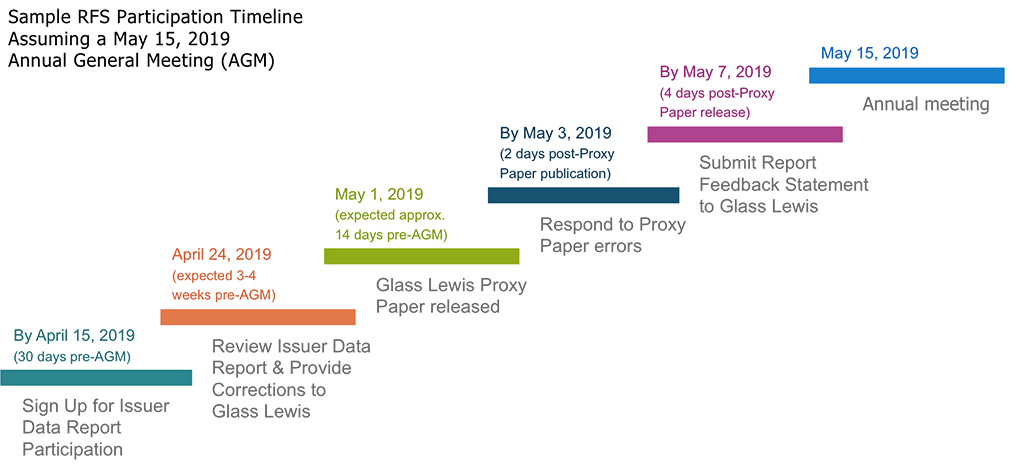 If you have questions about Glass Lewis' RFS service, please email info@georgeson.com or call 212 440 9800.​​

[1] Issuers and proponents each may submit one RFS per company annual meeting, except that if a company makes an additional public filing that causes Glass Lewis to materially revise its Proxy Paper report, Glass Lewis may allow the company to submit one additional RFS – for an additional fee – within two business days following revision of the report.​ 
​

​