Companies must be prepared for all possibilities – including becoming the target for an activist investor. From organizing a core team, understanding your company's governance vulnerabilities, analyzing your shareholder base, preparing communications and understanding what financial issues may be perceived as vulnerabilities by activists, preparation is crucial in order to protect your company.
Shareholder activism continues to be on the rise, with a record level number of companies targeted in 2018, and no company is immune. Board change and M&A can be among the most common activist objectives; however, the statistics below demonstrate that activism is not limited to certain sectors, market caps or desired activist outcomes.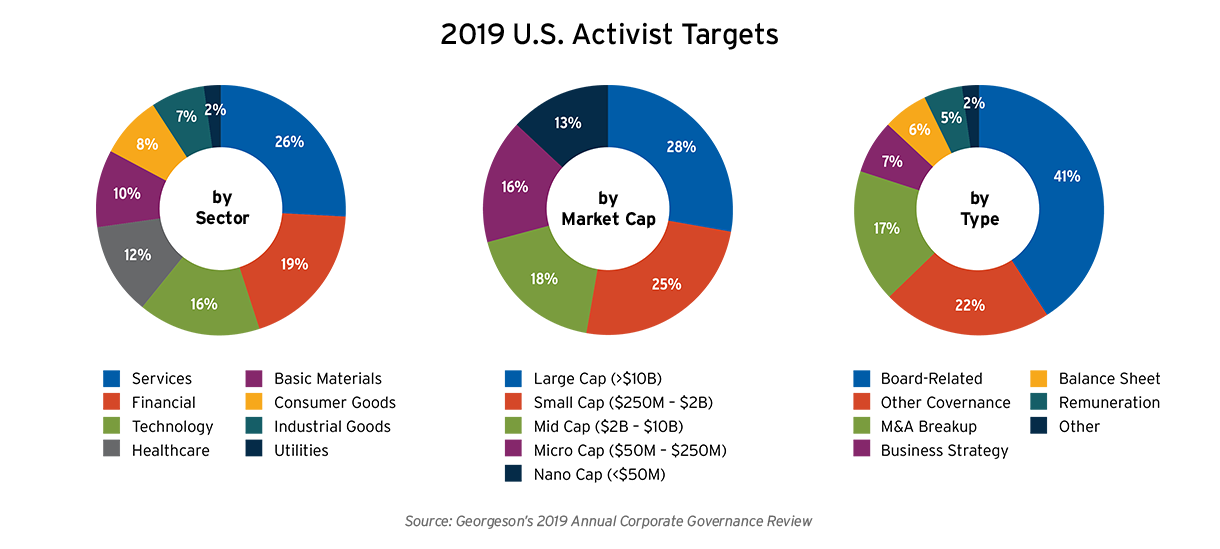 When companies and activists fail to reach an agreement, expensive and resource-depleting negotiations or proxy contests that are often reputationally damaging may occur. In 2019, Bed Bath & Beyond made headlines for a proxy contest waged by Ancora Advisors, Legion Partners Asset Management and Macellum Advisors. The investors leveraged a combined 5% stake in the company to call for the replacement of its board and CEO, alleging that the company had failed to adapt to new consumer behavior. Bed Bath & Beyond ultimately settled with the three activist investors and named four new independent directors to its board.
In 2017, P&G appointed activist investor Nelson Peltz to its board after a long proxy contest, which was the most expensive on record in U.S. history. P&G and Trian Partners, the investment company founded by Nelson Peltz, reportedly spent more than $100 million on mailings, phone calls and advertisements targeted to investors.[1] Buffalo Wild Wings also dealt with a proxy fight against an activist fund in 2017, resulting in the appointment of three dissident directors to the company's board and resignation of the CEO.
While there is no foolproof method to predict activist activity, there are factors that can be taken into consideration. Recent corporate governance or financial issues may make a company more vulnerable to an activist agitating for change. Activist history may also be somewhat of an indicator of future activity, so working with a proxy solicitor to understand an activist's past targets and campaigns can be useful.
Keep Your Business Reliably Resilient in an Activist Scenario
Understanding the risks and consequences of activist eventualities can help you determine the right course of action, and Georgeson can assist, regardless of what stage of activism your company faces. However, we strongly recommend you prepare well before an activist arrives or begins to agitate. The activist investor will have very specific demands, which may or may not align with long-term institutional investor views. In most cases, the larger long-term shareholders should have the most influence on the strategic decisions of the company. Effectively communicating and understanding your shareholders' views on your corporate strategy and corporate governance is critical to being prepared. Our investor-centric approach will help you navigate the interests of those shareholders so you can mitigate risk, build strength and establish credibility in the marketplace.

If you have questions or comments, please email info@georgeson.com or call 212 440 9800.
[1] https://www.cnbc.com/2017/12/18/pg-appoints-peltz-to-board-despite-losing-proxy-battle.html​